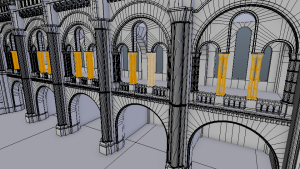 I wrote a very simple Blender to Unreal exporter because I couldn't find one that exported scenes to FBX and T3D at the same time. The purpose is to export only unique data to FBX, instead of all object data, this way duplicates (with linked data in blender) are preserved and objects can be pasted in to Unreal after placement was done in Blender. Now I can export a whole scene at once and still benefit from the efficiency of linked data, without needing to reconstruct object placement manually in Unreal.
It's no Datasmith, but this is all I need for testing and it works with Blender.
Usage:
In Blender:

Select objects to export, run script. (FBX names are based on mesh data names)
Copy (T3D) text from console output to clipboard (Placed instance/object names will be the same in Unreal and Blender)

In Unreal:

Import FBX files
paste (T3D) clipboard
To Do:
Convert to exporter addon
Options for file output destination, and content path in Unreal
Optionally skip either FBX or T3D output
Send T3D to clipboard or text file instead of console
Optional scale conversion
Instanced Static Mesh Component for Array modifier instances.
More features for iterative workflow?